Holiday Food Styling – How to achieve the picture-perfect tablescape
Holiday food styling guide.
–
The holidays are the most festive time of the year, but they can also be the most stressful. Here are some useful food styling tips for getting that picture-perfect Thanksgiving and Christmas tablescape we all dream of creating.
Main course – tips for the perfect Thanksgiving and Christmas ham or turkey
Side dishes – complement your ham or turkey with color, angles, distance, and texture
Desserts life of the table, where the fun begins
Table lighting tips – setting the atmosphere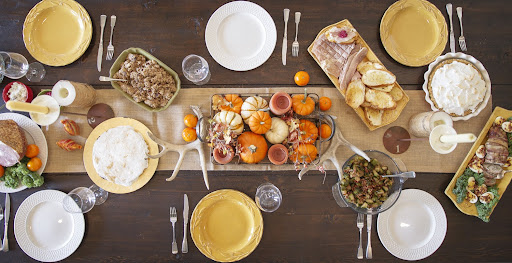 Main Course – Tips for the Perfect Thanksgiving and Christmas Ham or Turkey
Let's first talk about your main dish, the focal point of your meal. You will want this dish to be the most eye-catching part of your setup. Let's say your main dish is a big delicious
Pederson's Natural Farms
Christmas ham. There are many ways to style a holiday ham. The first is with traditional stylings of cloves placed on the outside of the ham – a great way to keep that traditional look. Another way is to baste your ham, whether you choose orange, cranberry, or just a brown sugar glaze. This gives a delicious spin on the ham. When presenting, you can place citrus halves or slices on a bed of parsley, kale, or green leaf lettuce. Also, fig halves, pomegranates, or cranberries all add beauty and color.
Garnishing your dishes adds color and character.
Baste your ham or turkey with glazes for added flavor and visual appeal.
Side Dishes – Complement your Ham or Turkey with color, angles, distance, and texture.
Next, let's complement your main dish with some beautiful and creative side dishes. Sides are a great way to elevate your tablescape to the next level. It's always best to have some fresh, vibrant vegetables in the mix for an added bit of color. Using white plates and dishes is visually striking and will achieve better photos because of the contrast. Use different shapes of dishes for each side to bring more dimension to the scape and give more depth and height, adding better visual appeal. An example to create contrast would be to use white serving pieces for dishes that are vibrant in color and darker serving pieces with lighter, more neutral foods. Don't be afraid to change the distance of your shots. Zooming way out or getting extremely close up to your dishes can create some great eye-catching content. Changing angles is very important as well. Assess different angles of the dish and think about what would look best. Overhead shots (or flat lays) can be eye catching but not for everything. If you have something relatively flat like a crostini or flatbread, add visual interest by stacking a few, and prop one on the side of the stack. Take the photo very close and from the side or at a 45 degree angle. This adds height and texture and is more visually appealing. ​​
There are times when extremely close photos of food work well, and, at other times, a wider shot conveys a better sense of place and atmosphere.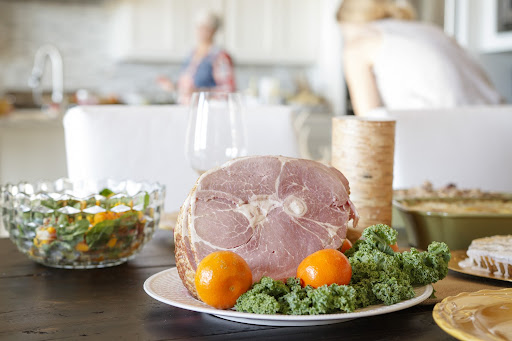 Desserts – Life of the table, where the fun begins
Last but certainly not least, the final touch to your perfect holiday tablescape…dessert! This is where you can start being super fun and creative. There are so many different ways you can spruce up your desserts. Use elements you may not normally think of using (like fresh cranberries, leaves, or pinecones) by scattering them on the table. Don't be afraid to try a variation of presentations to achieve that perfect image! Some clever things to try include:
Serving bite-sized portions
Using smaller glasses, bowls, or plates for individual servings
Garnishing with fruit, candies, nuts, edible flowers, etc.
Decorating with skewers, straws, and toothpicks
Using multicolored foods such as dark, white, and milk chocolate shavings, chips, or wafers for garnishing the tops and sides around your dishes
Sprinkle powdered sugar or cocoa powder on top
Shave some lemon, orange, or lime zest for aroma and color
Use seeds like chia, sunflower or fruit chunks like pomegranate arils and pineapple
Table Lighting Tips – Setting the atmosphere
One of the most important parts of getting the best photos possible is the lighting. Whether you are capturing a bright and cheerful mood or just a warm-night-by-the-fireplace atmosphere, these tips will help you achieve the perfect mood. Natural lighting is always the best as far as getting that perfect mouth-watering photo of your meal. Setting your table close to a large window or glass door typically provides enough natural light to take a dynamic photo. If you prefer a warmer look, take the shot at night with string lights in glass jars, taper candles strewn throughout the middle of the dishes, or tea lights placed around the scape by themselves or in decorative votive holders. If you are reluctant to use open flames, there are many LED flameless candle styles to choose from that will still help achieve a gorgeous glow.
The possibilities are endless for creating the ideal holiday meal. I hope this brings some inspiration and creativity to you this special season!