A marketing funnel is a tool that demonstrates the journey of a potential customer from first hearing about your brand to eventually making a purchase.
There are many versions of marketing funnels; some have many stages, while others have only a few, with different names and business activities performed for each.
Before we get into the specifics of how the marketing funnel works, let's discuss the basics.
What is a marketing funnel?
Marketing funnels lead to success.
What is a marketing funnel?
The marketing funnel depicts the customer journey as they transition from leads to customers, as seen from a marketing strategy and sales viewpoint.
The funnel-like structure demonstrates how qualified leads are captured and nurtured through each stage until they reach the point of purchase and become customers.
Below, we have provided a diagram with the most common and relevant marketing funnel stages, terms, and actions to make this valuable for the widest variety of businesses and brands.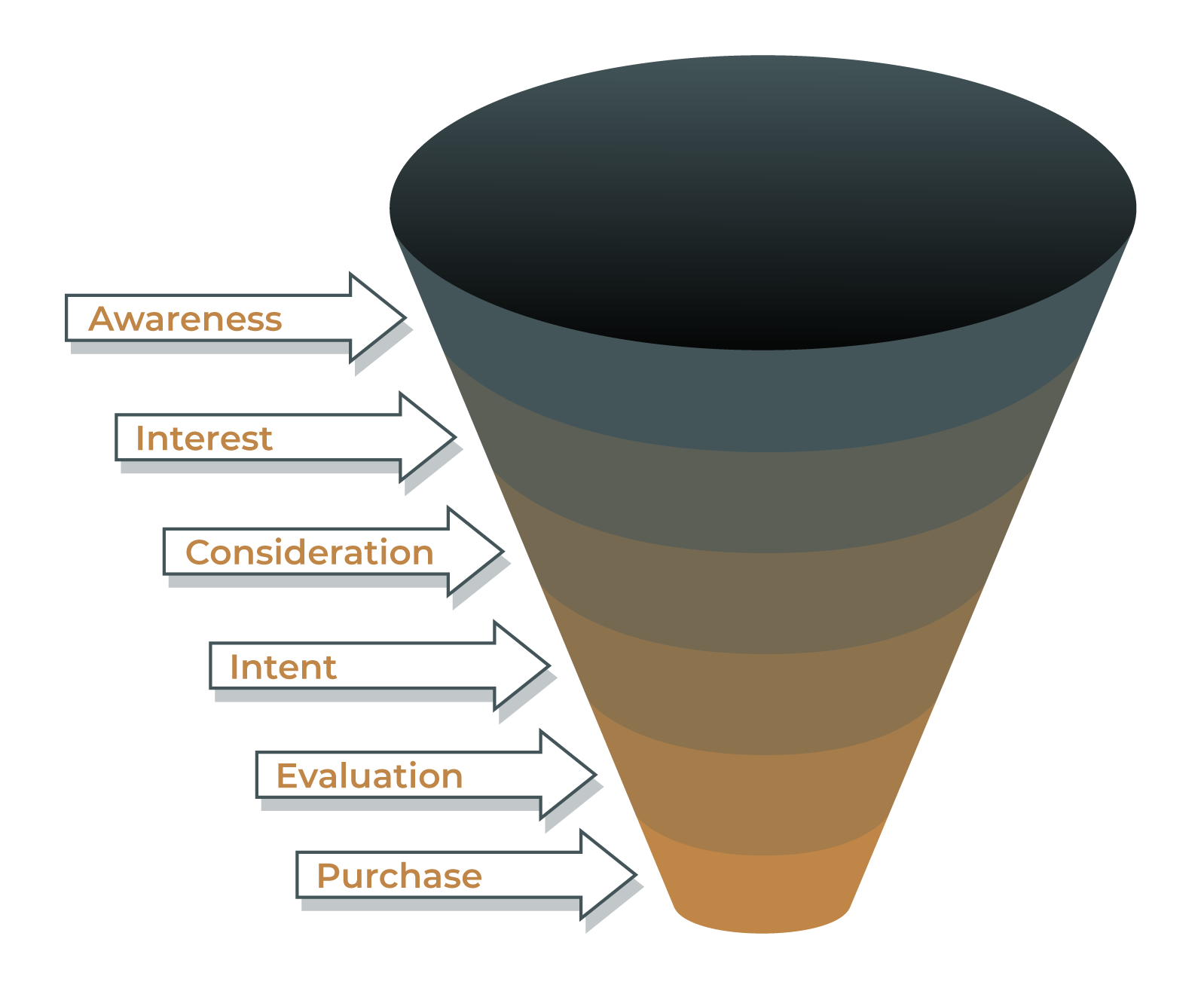 In the awareness stage, consumers first become aware of a problem or need that they want to resolve. They may not be actively searching for a solution yet, but they are examining their options.
In this stage, marketers need to create informative and engaging content so that consumers will want to learn more about the product or service.
Awareness can be generated through various marketing channels, including paid advertising, brand advocates, social media campaigns, blogs and other forms of content marketing, public relations, and events.
It's important to note that consumers may not yet be searching for your product or service, so easy-to-find and digest content helps to inform and lead to interest.
The second stage of the marketing funnel is interest. Here, members of your target audience are interested in what you have to offer and may be considering doing business with you.
It's essential to keep consumers in this stage updated on your products and services, as well as any special offers or deals you may be running. You can do this through emails, newsletters, social media, and other marketing campaigns.
By staying in touch with potential customers and keeping your business on their radar, you continue to build their interest and place yourself in the position of providing the product or service they seek as they journey through the buying process.
The third stage of the marketing funnel is consideration. Qualified leads who have expressed interest in your products or services are now prospective customers.
Providing more information about your products or services and their benefits helps move potential customers further down the funnel. Automated follow-up email campaigns, testimonials, and free trials or demos can be helpful.
It's also essential to address any objections the prospective customer may have. Doing so builds rapport and trust, making it more likely that you will make a sale.
The fourth stage of the marketing funnel is intent. Prospects have demonstrated interest in purchasing your product or service and are now considering becoming customers.
Consumers at this stage may have placed a product in their cart, made calls to inquire about pricing or other information, commented on your social media, or completed an online form requesting more information.
Now more than ever, providing a clear and compelling call to action is crucial. This could be an offer for a free consultation, a discount on the buyer's first purchase, or something else that entices them to take the next step.
Make it easy for prospects to contact you and learn more about your product or service. Ensure that your website is up-to-date, easy to navigate, and that your contact information is always prominently displayed.
Helping prospects take the next step increases their likelihood of becoming customers.
The fifth stage of the marketing funnel is evaluation—where potential customers make a final decision on whether or not to purchase.
The main factors influencing this decision depend on how well you have proven that your product or service meets their wants or needs and other incentives you've provided.
Customers will compare your offerings with other companies' before making their final decision. At this point, marketing and sales should join forces to solidify your product, service, or brand as the best option.
The final stage in the marketing funnel is the purchase stage. This is where the potential customer has decided to purchase your product or service. They have gone through all the marketing funnel steps and decided they want what you offer.
Once they have made the purchase, they are now your customer. Continue nurturing and building a relationship to ensure customer satisfaction. Existing customers can lead to referrals and help refill the top of your funnel.
Marketing funnels lead to success.
Marketing funnels represent the journey from consumer awareness to lead development to the purchasing process. By providing information, outlining benefits, and addressing possible roadblocks at each stage, you increase the likelihood that potential customers become actual customers.
At Root & Roam, we can help you fill your funnel and nurture each stage so that you experience success. So whether you're just getting started or are ready to take it to the next level, we're here for you.