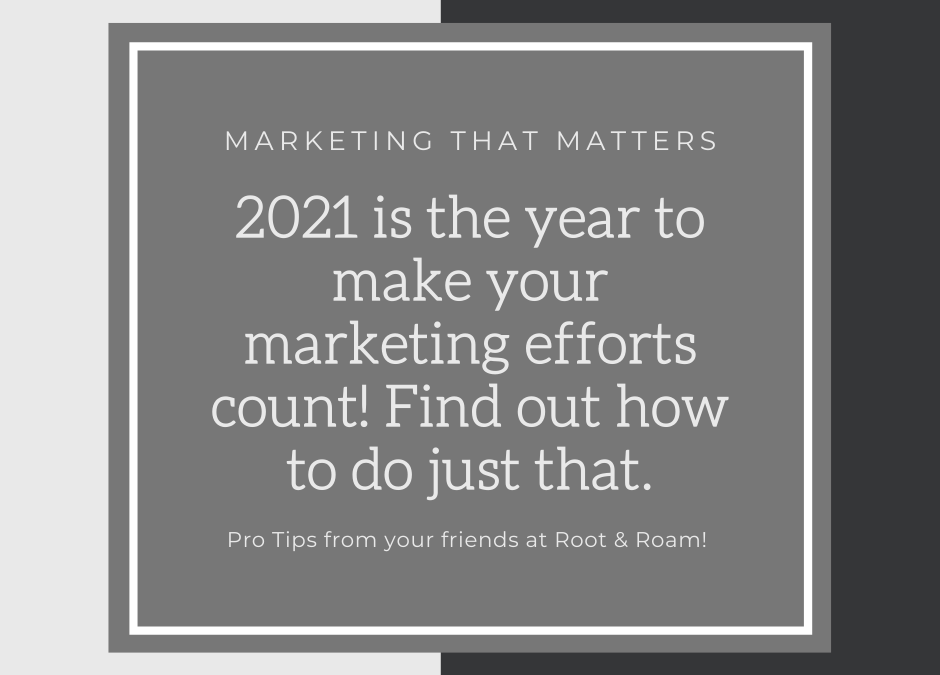 There is no doubt that COVID-19 had a dramatic impact across industry sectors, to include the one we work in here at Root and Roam Integrated Marketing Agency. The pandemic decimated small so called "Mom and Pop" shops, while wreaking havoc on just about all brick and mortar businesses. 
And although we hope the worst of this economic shake-up is behind us, it is still difficult to predict what the future holds when it comes to sector growth and keeping businesses up and running. 
No one likes to operate in a volatile market, which is why we've outlined a few marketing tips that we believe can boost your business even during such uncertainty. 
YOUR BRAND SHOULD BE ACCOUNTABLE
It's all about transparency and accountability. Yes, two words that you'll often find in a mission or vision statement. A lot of businesses may talk the talk but don't necessarily walk the walk. 
Even without a global pandemic, competition across industries is and always will be fierce, unless perhaps you're Amazon. That is why now more than ever it is important to not just provide stellar goods and services, but to do so with purpose. 
Research shows that brands that have a precise and carefully communicated purpose observe growth two times faster than businesses that don't. And leveraging transparency and accountability should be woven into that purpose. 
With all the options out there, it is important to stand out, so clearly communicating your purpose helps in doing so. 
As well, present-day consumers are more aware of the social responsibility businesses should embrace. Gone are the days of repetitive purchasing because of limited options. Now customers not only become lifetime consumers, they literally align themselves, and their communities, with their favorite brands. And if you consider that currently Millennials make up the largest demographic and have the most buying power, you should take note that social issues are a big part of their buying decision. Issues like inequality, social struggle, and environmental problems should be integrated within your marketing solutions, if you want to reach this demographic.
TAKE THE GUESSWORK OUT OF YOUR MARKETING
We've seen how businesses have been impacted by COVID-19, but one of the first line items usually to go when creating a budget for a business is marketing. Now more than ever, every penny you spend in marketing needs to directly contribute to a return on investment (ROI). Working with a market research firm or having access to online databases in order to curate the exact information you need to create that marketing strategy is imperative to the success of your marketing efforts. And in the end, you'll achieve better ROI by leveraging data.
Being able to take a deep dive in your customer's purchasing journey, understanding your brand's share of voice (SOV), or even creating customer personas isn't something even the brightest marketer can do without the access to good data.
At Root and Roam, we leverage strong data to build strategies that make sense. We don't guess, because budgets can't support guessing, and businesses can't thrive on the unknown. 
THE RISE IN TEST MARKETING
Product and/or service launches can be costly; that's why you need to get it right the first time. With smaller marketing budgets come fewer resources, so this is where testing your product or service prior to launch can help save millions in dollars and resources. Testing the market versus sinking millions into research and development (R&D) can often be more cost prohibitive and get you the answer you're seeking faster. 
Expect to see an increase in test marketing, as companies try to keep up with consumer demand, but don't have the big budgets backing them like they used to. 
And if you're a company prepared to launch a new service or product, work with your marketing teams or a marketing firm that can help you facilitate marketing testing. You'll be glad you did.
VIDEO CONTENT IS STILL HOT
Video content has been and will continue to be some of the most important content you create. Whether it's an answer to a question, a "how-to" video, or a cooking demonstration, people of all ages engage with video more than any other content. 
Video also helps to humanize your brand and a perfect platform to demonstrate your accountability messaging.
Pro tip: to get the biggest bang for your buck, edit your video for various platforms (i.e. long-form for YouTube, short-form video for Instagram). Also, don't be afraid to edit and modify for each platform. For example, if the majority of your audience is younger and spends their time on TikTok, consider modifying your message and video for a younger audience. 
Also, don't be afraid to go live! Facebook offers a great platform for live video, and people love to see brands in action. 
LEVERAGE SOCIAL MEDIA FOR BETTER CUSTOMER RETENTION
The second quarter of 2020 saw an increase of budget of 24 percent for social media support as part of the total US marketing budget. Marketers turned their focus to customer retention, which, in terms of marketing spend, is far less expensive than trying to acquire new customers especially during a pandemic. 
The pandemic also changed how much time viewers spend online researching products, services, and brands. In response, marketers can expand their reach, connect with first-time buyers, and continue engaging with loyal customers. Consider highly engaging content, customer loyalty programs, and social media "shout-outs" to your most loyal customers. Let them feel they are part of your brand's success by sharing their content, incentivizing them when referring new customers, and showcasing their loyalty through social media.
USE MORE INTERACTIVE CONTENT
Consider this, interactive content facilitates 2x more conversions than content that is passive. 
Interactive content can include quizzes, surveys, polls, giveaways, contests, open-ended questions; basically any content that the user is compelled to respond to. The more engaging the content, the more time the user spends on your platform, and this helps your business grow in two ways: the more time someone spends on your site, the more search engines deem your site worthy for organic search, and the more time they spend on your platforms, the better chance they have to convert. 
Highly engaging, interactive content is likely to be shared more across social channels, so consider this when creating content for your users.
VIRTUAL EVENTS WILL CONTINUE TO GROW
With the pandemic came the dramatic increase in the use of virtual platforms. Just ask Zoom! And although some of these meeting-based digital solutions have been in play for quite a while, they haven't always been leveraged for events. 
This has presented a unique opportunity for businesses. By making events virtual, you're able to open up your business and share your content to the entire world! If COVID-19 taught us anything, it was that people don't need to gather in physical spaces to share, engage, or get things done. 
Need ideas on virtual events? Consider doing a virtual Q&A on a topic that your managers have expertise in. This is a great way to demonstrate thought leadership within your industry.
CONVERSATIONS SHOULD KICK-START YOUR CONTENT MARKETING
There are two types of digital content; content created for Google's algorithms and content created for humans. Yes, as digital marketing experts, we understand the importance of creating and publishing content that leverages search engine optimization (SEO) tactics for better organic search. However, we also understand that no one is going to take the time to read 1800 words of uninteresting content. 
When creating content, whether it's a blog or a Facebook post, consider reading what your customers are reading and providing content that compels them to read and engage. It's okay to be creative, have fun with content, yet still be a brand serious about revenue goals. But if you create the same boring content day after day on your products or services, you will lose your audience. 
BRANDS CONTINUE TO EMBRACE E-COMMERCE
In 2020, marketing agencies specializing in e-commerce development saw a mass influx of requests. Some were out of fear due to the decrease of foot traffic in brick and mortar locations, and some were due to the rise in direct to consumer (DTC) opportunities prior to the pandemic. Regardless of the need, we expect e-commerce development opportunities to continue to rise. 
During the pandemic, we know that consumer behavior dramatically changed with more and more people going online to transact, but in 2021, don't expect to see that behavior change. With the ease of pushing a button and just about anything you want can be delivered right to your doorstep, consumers are finding that online shopping is the way to go. 
That said, if you're considering taking your products or services online, now is the time to do it. 
The good news is, there are a lot of great e-commerce platforms out there that won't break the bank in terms of development costs. As well, these platforms utilize other technologies that integrate with them seamlessly, technologies that have automated what marketers used to manage.
EMBRACE 2021 WITH A NEW MARKETING STRATEGY THAT MATTERS
In summary, your organization's marketing activities in 2021 should be driven with the intent to reach new audiences and embrace the customers you already have, with purpose. Provide them with content that matters, leverage the platforms they use most, and consider utilizing video and live, virtual events to have compelling conversations. 
If you've been thinking about taking your brand online for e-commerce opportunities, seize the moment, and do it now before your competition beats you to it. 
And finally, if you're not working with a strong agency that understands good digital marketing, consider working with one. At Root and Roam, we know digital marketing, so feel free to give us a call.