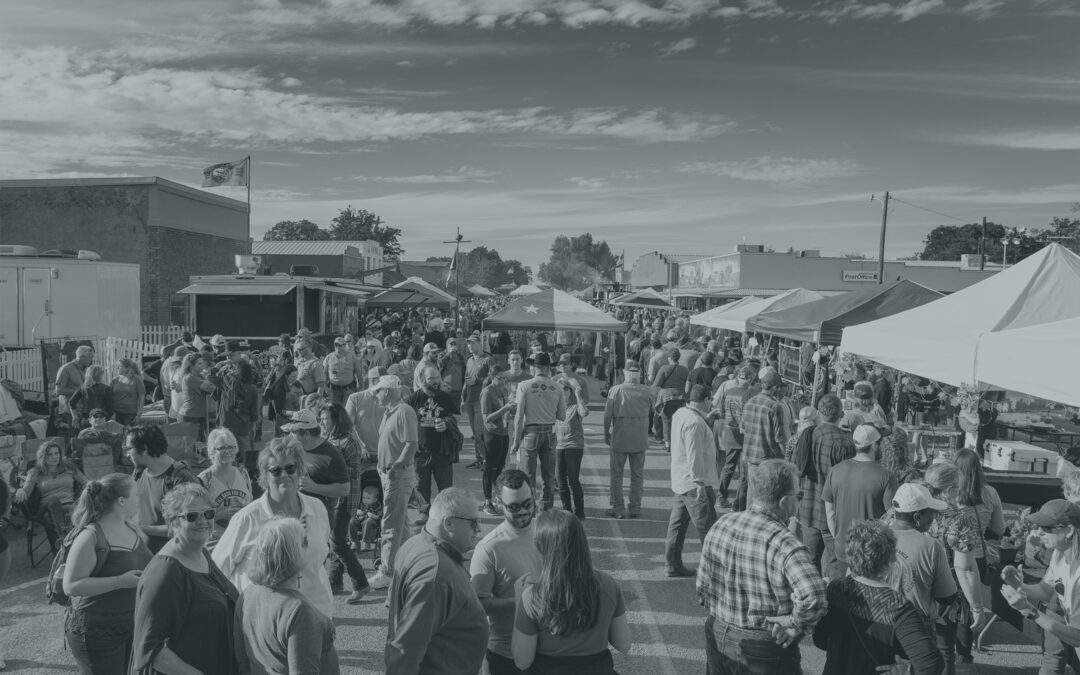 What is event marketing, and how can Root and Roam help?
Why is event marketing important?
Event Marketing Plan—The Questions You Need to Answer
Develop Event Marketing Assets
Marketing Ideas for Events
Our Experience with Event Marketing
What is event marketing, and how can Root and Roam help?
"Event marketing describes the process of developing a themed exhibit, display, or presentation to promote a product, service, cause, or organization leveraging in-person engagement."—Adobe Experience Cloud
As an event marketing agency, Root and Roam aids clients in planning out the finest details of their events. This includes putting together a marketing strategy and asset creation. We even provide photography and videography services during our clients' events. 
Our team of event marketers is skilled in creating event marketing strategies that help our clients succeed in achieving their event goals. The process of creating the strategy requires diving into the who, what, when, where, and why of the event and building on those answers to paint the larger picture. In this article, we are going to take you through the process of event marketing planning.
Why is event marketing important?
Event marketing allows consumers to get a small inside look at your business, the values your company upholds, and the value that your product or service can provide them. Event marketing spans from trade shows to charity events and even conferences. 
At these events, you have the opportunity to form personal connections with consumers, and the personal connections you form at these events have the potential to blossom into long-term client relationships.
Your event marketing plan is the base starting point for marketing your event. This is where you plan out the date, time, and theme of the event, what you will offer your audience, and the overarching goal and purpose of the event.
Event Marketing Plan—The Questions You Need to Answer
Similar to any other marketing plan, the first step you need to take when planning a marketing event is to create the strategy. To create the strategy you need to determine the when, where, who, and how of your event.
When will the event take place?

What is the time and date of the event?

Where will the event take place?

What is the city, state, and/or country of the event?

Will the event be indoor, or outdoor?

Who?

Who is hosting the event—are you the host, or is someone else the host?

Who will be there—is the event open to the public or strictly private?

How?

How will you be participating in the event?

Are you speaking?

Will you have a booth?

Are you donating?

Will you be providing a demonstration?
The event marketing strategy is the second step in marketing your event. Let's walk through the pieces of an event marketing strategy together.
Let's nail down the goal of your event. We need to know what you are looking to achieve in order to create the best plan for your event. A few goal ideas for events are to raise money for charity, create brand awareness, or generate leads.
Key Performance Indicators (KPIs)
Start with your KPIs for the event. KPIs are how you measure the success of your marketing event. KPI's should always be reasonable and attainable, based on the projected event attendance and your budget. Your event marketing KPIs can include but are not limited to
Obtaining a certain amount of contact information (email addresses, phone numbers, or mailing addresses)

Speaking to a certain number of people per day

Performing a certain number of demonstrations per day or per event

Giving a speech that hits on specific topics

Achieving a certain number of sales at the event

Reaching a certain threshold of dollars donated—this usually applies to charity events
Your team can even look into KPIs that are achieved post-event courtesy of your efforts at the event. Those include
Phone calls 

Door swings

Sales

Contracts
All of the above are achieved because the client learned about your business at the event.
The next step in the strategy is to determine who your target audience is and where to reach them. We determine who the audience is based on your niche market and the goal of the event. If the goal is to raise money, we will want to target an audience with a certain level of income. If the goal is to create brand awareness, we can target a broader audience within your niche. Staying within your niche is also important so that you don't waste precious resources on those who are not interested in your business type, to begin with.
You can find out where your audience a few different ways, you can survey new potential and existing clients, you can also rely on quality research regarding your target audience's media habits. The Root and Roam event marketing team is equipped to assist you in the process of determining the best avenues of advertising for your event.
Determine your budget for the event. Not only do you need to know the overall budget, but you also need to break that budget down into necessities and non-necessities.
Necessities
Permits

Building/space rental

Transportation (plane tickets, rental vehicles, gasoline)

Passes—to enter the event and parking

Room and board—food and hotel expenses for yourself, employees, and participants

Products and tools for demos

Advertisements

Wages for attending employees
Non-necessities
It's important to factor in necessities (the things you have to pay for) first, then tack on the non-necessities if there is room in your budget. This way you have a firm grasp of how much the event will cost your company or organization.
Develop Event Marketing Assets
Event marketing assets include messaging and visual elements of your marketing efforts.
Event Marketing—Messaging
The messaging should be informative and easy to skim. Messaging includes all of the need-to-know elements of the event, along with any fine details that your audience should know. The messaging should also match the event theme and meet your goals of what you want your audience to feel when they read it. Need-to-know information includes but is not limited to
Event name

Event time, date, and location

Entertainment—live entertainment, speeches, tradeshow vendors, food and beverages available—

ALWAYS INCLUDE FREE ITEMS IF AVAILABLE
Fine details to include in your messaging are
Entry or ticket cost and where to purchase or pre-pay

Parking information if applicable

VIP opportunities

Age limits if the event is not child friendly

A web address where your audience can learn more about the event
Event Marketing—Visual Elements
The visual assets are the "pretty pictures" that go along with the event messaging. Visual assets include graphics, infographics, websites/landing pages, photographs, and videos. To create these pieces, you will need to hire graphic designers, website designers, website developers, photographers, and/or videographers. 
Luckily for you, Root and Roam is a full-service event marketing agency—meaning that we are fully staffed with team members that can cover all of the asset development pieces for you.
Marketing Ideas for Events
Based on Root and Roam's experience, there are a few marketing avenues that we suggest looking into when planning marketing for your event. Our suggestions include pay-per-click advertising, a website or landing page on your website, social media posting and paid ads, radio, newspaper, and magazine ads, flyers, direct mailers, email blasts, newsletters, billboard ads, and word of mouth (tell everyone).  The marketing avenue that will work best for your event depends on your target audience, discussed in the "Audience" section of this article.
Here are a few other marketing ideas for events that we can offer, depending on your role in the event: 
Prepare a speech that delivers the purpose, goal, and good of the event and your company or organization's role there;

Purchase booth equipment—this includes the booth fee, tables, chairs, and sectioning screen or curtains if needed;

Purchase fliers, banners, pamphlets, a digital slideshow, or free gifts for guests at the event;

Prepare sample kits—include any products that you are willing to give away. Remember that consumers are more likely to purchase what they can taste, smell, and touch;

Prepare a demo stage—include the equipment you need to produce a demonstration, including safety equipment;

Stock up on checks with your company's name on it, and/or order a giant check for photos;

Post on social media—post lives, photos, and videos, and schedule updates throughout your time at the event. You can even let your fans know where to find you at the event.
Our Experience with Event Marketing
Root and Roam has specialized in event marketing in a few different forms, the largest being the production of Bacon Bash Texas, held annually in Cranfills Gap since 2011. Our team is fully involved in the planning and production of Bacon Bash Texas every year. This means that we assist with things as small as hiring judges for the bacon cook-off to the setup and takedown of booths on the day of the event. We also handle all of the pay-per-click, social media, and website marketing for the event year-round.
Outside of Bacon Bash Texas, we assist our clients in preparing for conferences and trade shows by designing and ordering banners and signs for booths. We can even let your fans know that you will be at an event in their area via social media or pay-per-click ads.
Needless to say, Root and Roam has the experience to assist with your event marketing needs. Click the button to kick off your event marketing plan.